Vans are not usually known for their luxury, but Pregio owners will enjoy many of the same features, conveniences and options found on today's cars. Features like full instrumentation, interior trim and cloth seating upholstery. Options like power
steering, a climate control system and an AM/FM stereo cassette player and host of other conveniences that will make driving Pregio even more enjoyable.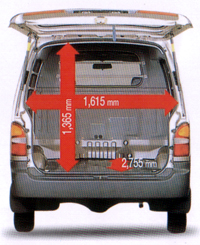 SPACE- Pregio has the longest, widest and tallest cargo area of any Kia van ever built.
| | | |
| --- | --- | --- |
| | | |
| | | |
| | COMFORT- Independent front and rear temperature and fan speed controls will help keep the interior comfortable for all passengers. | |
| | | |
| | CLUSTER- Pregio's full-featured instrumentation keeps you informed at a glance. | |
| | | |
| | QUIETNESS- Extensive dampening and insulation isolate the cabin from noise and vibration for even greater ride comfort. | |